Race to the Stars: The Exclusive Palaces and Restaurants of Paris
86' - 2017 - TV PRESSE
Synopsis
In Paris, only nine hotels have snatched the title of "Palace," the holy grail for five star hotels. Le Meurice, Le Bristol, Le George V and La Réserve have been the last five hotels to enter this exclusive circle. These hotels symbolise the French way of life for their wealthy, international clientele. One night in a single room costs 600 euros and a suite can cost up to 25,000 euros.
Over the last 10 years, the number of luxury rooms in Paris has nearly doubled. The competition between hotels is set to increase in the coming months with the reopening of The Hotel de Crillon and The Ritz and the arrival of two new high-end hotels, Le Cheval Blanc and Le Fauchon.
In this exclusive universe, the Royal Monceau has agreed to let us in on the secrets of its commercial success. How do they promote their palace? How do they stand out from their competitors? Are they slashing prices to attract more customers?
Some hotels are relying on their French gastronomy to stand out. At George V, Christian Le Squer welcomes us into the kitchens of his three star restaurant, "Le Five." As the manager of a 60 person team, Christian does not neglect any details. Vegetable sizes, cooking processus, and sauce preparation require high precision, and his staff are under constant pressure. Even in this military (and occasionally authoritarian) operation things can sometimes go awry.
We have infiltrated the kitchens of a grand hotel to show the underbelly of a world that is often ruled by strict codes of silence and secrecy.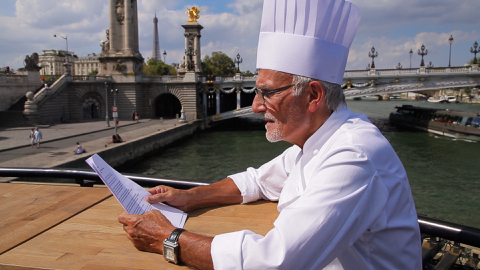 Technical sheet
Infos
Pictures
Videos
version
French, M&E
support
HD
producer
TV PRESSE
director
Stéphane Munka, Eve Bartoli