Release Party
7 x 51' - 2019 - 2017 - MILGRAM Productions
Synopsis
The collection that celebrates albums, live!
Each episode is a pure video version of an album, its subject and its imagery, using a tailor-made film and narrative device!
The Live Show
Each band plays its latest album, in full and in the same order as the marketed tracklist.
To better reflect the imagery in the album, the setting is different for each band: a car park, a village hall, a Breton island, a circus, a 70's soul train-style TV studio... But the audience has to adapt too, the guests only being admitted if they follow the specified dress-code: a 1970's wedding guest, a 1980's raver, a clown, a working class rebel...
The Fictional Element
To support the subject of the albums, sketches filmed with actors punctuate the live performances.
The Thread
Throughout the series, we are guided by a character not unlike the presenter in The Twilight Zone, who is outside the time and space of the film. This timeless storyteller, played by Mexianu Medenu, becomes our reference point. Always dressed the same way, he directs or misdirects the viewer and provides information on the album's tracks and the themes.
Ep 1: TEMPLES in a new version of Alice in Wonderland for the album VOLCANO
Ep 2: THE HORRORS take us to the movies in the 1980s for the album V
Ep 3: THE GARDEN at the circus for the album MIRROR
Ep 4: CARPENTER BRUT in a 1980s high school rave for the album LEATHER TEETH
Ep 5: IDLES in a real / fake marriage for the album JOY AS AN ACT OF RESISTANCE
Ep 6: SLEAFORD MODS at the heart of a class struggle for the album ETON ALIVE
Ep 7: YANN TIERSEN and a fantastical creature in the wilds of the island of Ushant for the album ALL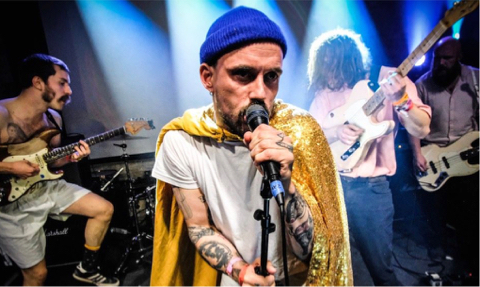 Technical sheet
Infos
Pictures
Videos
version
Music & concert
support
HD
producer
MILGRAM Productions
director
NULL