ROOM WITH A VIEW – Rone & La Horde
67' - 2021 - La Blogothèque
Synopsis
A post-apocalyptic vision rises from the boards of the Théâtre du Châtelet. The chaos and collapse are palpable. Within this devastated setting, 20 dancers protest and rebel, swept along by the music performed live by Rone on his machines.
Given free rein to devise a show by the Théâtre du Châtelet, electronic music artist Rone, in collaboration with the (LA) HORDE collective and the Ballet National de Marseille, created "Room With a View".
Along with this work came Rone's 5th album, bearing the same name. Composed in 9 months, this hard-hitting opus is a musical adventure combining club music, minimalist beats and addictive melodies, permeated by the urgency to create a "New World" in the face of chaos, and an invitation to heed the ecological disaster in progress.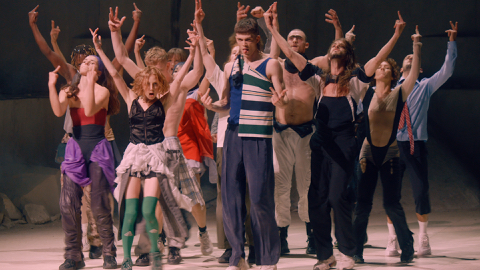 Technical sheet
Infos
Pictures
Videos
version
Music / Concert
support
HD
producer
La Blogothèque
director
Josselin Carré