ROYAL CONCERT of the night
134' - 2022 - Futur Antérieur Production
Synopsis
Recorded at BOZAR - The Centre for Fine Arts in Brussels
In 1653, when the kingdom of France was emerging from the troubles of the Fronde, which challenged the monarchy, the powerful Mazarin returned to Paris accompanied by the young Louis XIV, then aged 15. To establish Louis' power, Mazarin commissioned an extraordinary show, the "Ballet Royal de la Nuit", which was performed in the Petit-Bourbon hall in the Louvre Palace.
This entertainment, divided into the 4 Watches of the night, featured the sovereign himself as the rising sun, with the aim of establishing the young Louis as the Sun King.
Sébastien Daucé, a specialist in French Baroque music, spent four years reconstructing the score of this extraordinary show, which was never performed again after its creation in 1653. Here, with Ensemble Correspondances, he presents a selection of musical extracts from this majestic concert.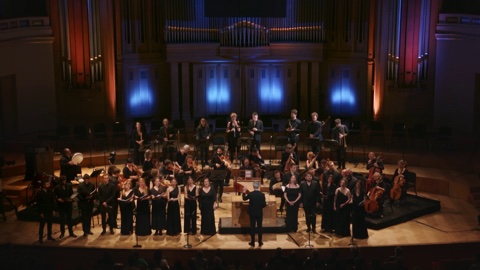 Technical sheet
Infos
Pictures
Videos
version
Music / concert
support
HD
producer
Futur Antérieur Production
director
Isabelle Soulard