(S)ACRE
62' - 2018 - La Belle Télé
Synopsis
In this piece for 9 dancers and 3 female musicians, David Drouard has been inspired by the Rite of Spring, a ballet created in 1913, set to the music of Igor Stravinsky, focusing on the place of women.
In contrast to the vision of the Elect sacrificed by the old sages in the original ballet, a group of nine heroines resist the powers of oppression. David Drouard places them in an abandoned theatre, partly covered by vegetation.
With this struggle by women to stay alive, echoing that of the continually resurfacing wilderness, the choreographer immerses us in the heart of a tribal fresco set to live punk rock music. This all female show, midway between a dance concert and plant installation, was devised in collaboration with the gardener and landscape architect Gilles Clément.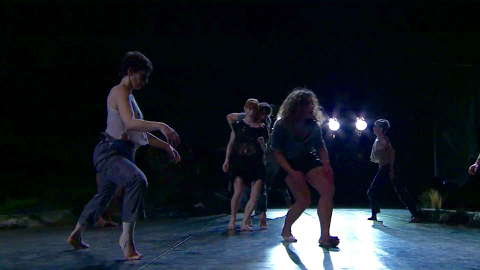 Technical sheet
Infos
Pictures
Videos
version
Music & concert
support
HD
producer
La Belle Télé
director
Vincent Massip