Snow Beard and the 7 Little Sleeping Pigs
52' - 2014 - La Belle Télé
Synopsis
Choreographer Laura Scozzi rewrites the stories of our childhood. A subversive and jubilant fable at the crossroads of dance, mime and theatre orchestrated by 8 hip-hop dancers.
Do humans rule the world? What if animals could have their say? What would happen if the Sleeping Beauty didn't wake up? If Cinderella couldn't find her slipper? If Snow White were black?
For the Suresnes Cités Danse festival, Laura Scozzi explores the stereotypes that society passes on to young girls: eternal love, blond blue-eyed princesses whose life boils down to waiting for Prince Charming?
She invents another world, in which we meet a bee that kills a bear, a fairy with a malfunctioning magic wand and a dwarf harassed by 7 nymphomaniac Snow Whites...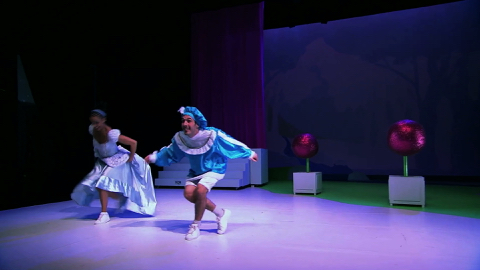 Technical sheet
Infos
Pictures
Videos
version
Music & effect
support
HD
producer
La Belle Télé
director
Thierry Teston