SPIRIT OF THE TIMES
6 X 30' - 2015 - DURITE Productions
Synopsis
From daily life to social phenomena, this series of magazine covers surprising or topical subjects from the latest gastronomic trends, the stress of moving, to the arrival of new kinds of tourists or herbal medicine…
THE CHINESE, WILD ABOUT PROVENCE (Réalisation : Julie Thierry)
Over the last few years, Valensole, a small village in the Alpes de Haute Provence, has been experiencing a new phenomenon. Every summer, thousands of Chinese tourists visit the village, the lavender fields and the region's chateaux, and delight in the local traditions. Although Paris is long accustomed to the admiration of Chinese visitors, here the locals, shopkeepers, restaurateurs are experiencing the excitement of these tourists from afar for the first time. This revolution in Provence is largely due to a Asian television series, which was filmed in the middle of the lavender fields, making this part of France, a romantic paradise for the Chinese. A phenomenon that has changed the lives of a handful of Provençals.
A LIFE IN A BOX (Réalisation : Sophie Alexanian)
Every year, more than 3 million French people move house. And each time, it's the same concern: putting one's whole life in boxes, then entrusting them to the more or less gentle hands of movers or friends, then changing one's environment, getting used to a new address, forming new habits... According to a recent study, moving house is the third greatest source of stress in France after bereavement and divorce! Whatever one's age, the process is the same, full of doubts and excitement.
We follow three different moves, three generations who have decided to embark on this adventure.
THE PLANTS THAT HEALS US (Réalisation : Julie Albet)
According to the WHO, 75% of French people have used natural medicine at least once. Faced with the adverse effects of conventional medicines, the French are looking for other ways to heal themselves, and herbal medicine is gaining in popularity. These plants are found in all forms: teas, tinctures, essential oils, and very often in our pharmacies. Amongst those who have turned to alternative medicine, we follow some dedicated professionals who have chosen to treat themselves with plants.
LIKE A TASTE OF ITALY (Directed by : Sophie Alexanian)
Italians who love their country and its cuisine, they have decided to share its riches with the French. Marco, a chef, champions Italian desserts. Alessandra titillates the taste buds of gourmets with his "Made in Italy" tasting workshops. While Sara, Francesca and Savatore produce Mozzarella with cows' milk.... from Normandy.
REVENGE OF THE CHARCUTIERS (Directed by : Sophie Alexanian)
The time has come for butchers to take their revenge. Gone is the old-fashioned image of the artisan in his stained apron. Today, some of them are turning pork into a noble product, taking pride of place on the table at fancy dinners. Thanks to the success of locally made produce, the profession now honours its stars and is inspiring a new generation. We meet three enthusiasts who worship fine produce and have turned their skill into an art form.
THE FRUIT HUNTERS (Directed by : Julie Thierry & Sophie Alexanian)
Finger Lime, cherimoya, pacaye, sudachi ... Most of us have never heard of these fruits with their bewitching names. However, they arouse genuine passion within a small and enlightened circle of adventurers, greengrocers, detectives, chefs and authors. Some devote their lives to searching the jungle in search of rare species. Others are struggling to save an endangered heritage. These fruit hunters want only one thing: to create their Garden of Eden and quench their thirst for exotic novelties.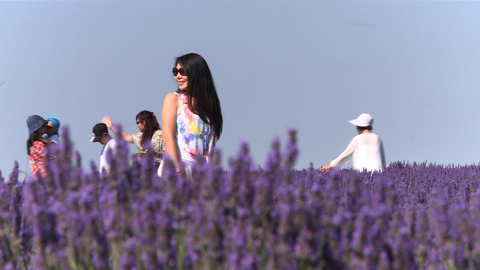 Technical sheet
Infos
Pictures
Videos
version
French & International
support
HD
producer
DURITE Productions
director
Various