SURF EXPLORE IN THE PHILIPPINES
52' - 2016 - PUZZLE MEDIA
Synopsis
At a time when surfing has become a real industry, four adventurers travel the world in search of virgin waves, thus perpetuating the culture of the pioneers of the discipline.
The Surf Explore team comprises British writer and longboarder Sam Bleakley, legendary Hawaiian surf photographer John Callahan, Italian surfer and weather specialist Emiliano Cataldi and French explorer Erwan Simon. Four friends united by the same passion for discovering waves never surfed before, which might become the leading surfing spots of the future.
Episode two: in pursuit of a typhoon in the Philippines
The adventure begins in Tacloban, the capital of Samar, the 3rd largest of the 7,000 islands in the Philippines. Numbering over a million inhabitants, it still receives only around 20,000 tourists a year.
The Philippines has several world-class waves, but the island of Samar remains largely unknown to the surfing world. To improve their chances, the Surf Explore team brings in Abdel, a Filipino surfer from Samar, who speaks both Warai, the local language, and English.
Traveling the Coastal Road, they soon realize that the country's real problem is typhoons: tropical cyclones with winds of more than 300 km/h, which destroy everything in their path. There are an average of 20 per year in the Philippines. Not all typhoons have the same degree of dangerousness and surfers welcome those that form a long way out to sea, because of the swell and superb waves they generate. Such is the case with the typhoon Champi, identified a hundred kilometers off the coast of Samar...
Like bounty hunters, our adventurers pursue Champi in order to enjoy the waves and locate more than a dozen spots never surfed or documented before.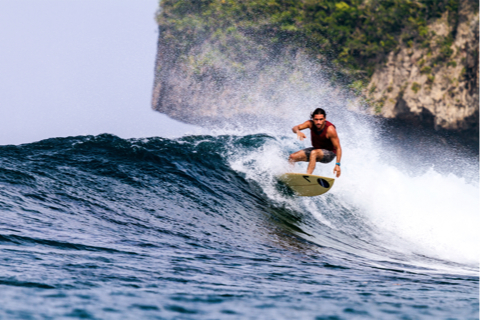 Technical sheet
Infos
Pictures
Videos
version
French & International
support
HD
producer
PUZZLE MEDIA
director
Jonathan Politur