THE CHANTIERS DE L'ATLANTIQUE, the largest shipyard in Europe
52' - 2021 - AH ! Production
Synopsis
In the port of Saint Nazaire, 2,700 engineers, workers and technicians have been working for 150 years to build the largest liners, oil tankers and LNG carriers in the world. Covering more than 118 hectares, the Chantiers de l'Atlantique relies on cutting-edge technologies to constantly increase its production capacity.
It's here that, amongst many others, the France, the Queen Mary 2, and the gigantic Batillus, one of the largest super-tankers ever constructed, were built.
How are these gigantic ships assembled? How is such a mega-structure organised? What technologies are used to stay at the forefront of innovation?
Take a look behind the scenes at the Chantiers de l'Atlantique, the largest shipyard in Europe.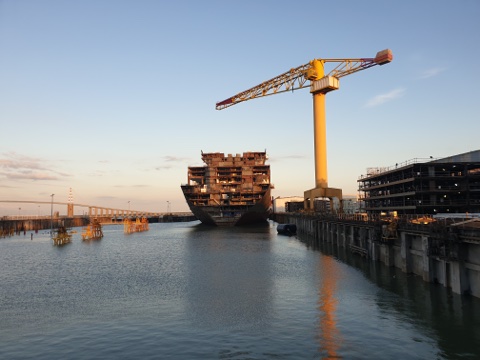 Technical sheet
Infos
Pictures
Videos
version
French, M&E
support
HD
producer
AH ! Production
director
Thierry Fessard & Hugo Hernandez