SAYPE, The World is a Canvas
4K

52' - 2023 - JAGUANUM
Synopsis
With his gigantic biodegradable frescoes, painted on grass, on sand, on rock, Guillaume Legros, alias Saype is one of the pioneers of the Land Art movement. Since 2013, he has travelled the world, tagging humanist messages on the ground in places steeped in history.
His massive interlocking hands have circled the planet. Self-taught, Saype is one of the most famous French land artists in the world. Through the story of this child from Belfort, who set out to conquer the art world, the film takes us to discover a new pictorial medium.
By closely following Saype and his team from Franche-Comté (where he began painting), and Switzerland (where he now has his studio), through a new adventure, the director invites us to explore, from the inside, the creation of a work that is certainly ephemeral, but majestic in its size and symbolism.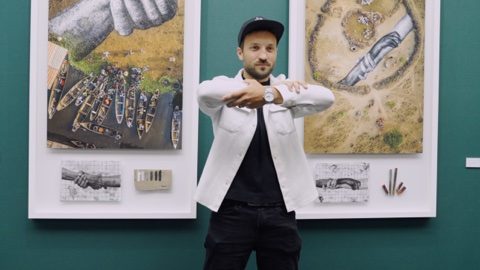 Technical sheet
Infos
Pictures
Videos
version
French, English, M&E
support
HD, 4K
producer
JAGUANUM
director
Emmanuel Besnier