The little pleasures of Seicento
78' - 2015 - CLC Productions
Synopsis
The beginning of the 17th century in Italy saw the emergence of many instrumental forms, testimony of the emancipation of instruments in relation to vocal music.
The Italian language illustrates this phenomenon in the terms cantata, sonata and canzone.
This programme enables us to discover the canzone and the sonata whose destiny has continued until today. Jean-Marc Andrieu's enchanted recorder, Yasuko Bouvard's original claviorganum and Laurent Le Chenadec's virtuoso bassoon perform these fashionable themes.
Concert recorded at the Rochemontès Orangerie
Performed by Les Passions, Montauban Baroque Orchestra
PHOTOS : © DR - CLC PRODUCTIONS
Programme :
Tarquino Merula (1595-1638) :
Canzone a soprano e basso La Berlasina
La Noce - Venise 1651
Giovanni Battista Spadi da Faenza (1516-1590) :
Diminutions sur Ancor che col partire de Cipriano da Rore - Venise 1609
Bartholomeo de Selma y Salaverde (1595-1638) :
Diminutions sur Vestiva i colli de Palestrina - Venise 1638
Michelangelo Rossi (1602-1656)
Toccata pour clavier - Rome 1657
Girolamo Frescobaldi (1583-1643) :
Canzona a soprano e basso La Franciotta - Rome 1628
Philipp Friedrich Boddecker (1607-1683)
Fantaisie pour basson sur La Monica – 1651
Giovanni Paolo Cima (v.1570-1622)
Due sonate da chiesa – Milan 1610
Jacob Van Eyck (1590-1657) :
Variations sur Lachrimae Pavan de John Dowland – Amsterdam – Utrecht 1647
Le Rossignol, pièce pour flûte soprano seule
Claudio Merulo (1533-1604)
Toccata pour clavier – Rome 1598
Bartholomeo de Selma y Salaverde (1595-1638)
Canzon a soprano e basso – Venise 1638
Tarquinio Merula
Ciaconna opus 12, n°20, pour 2 flûtes à bec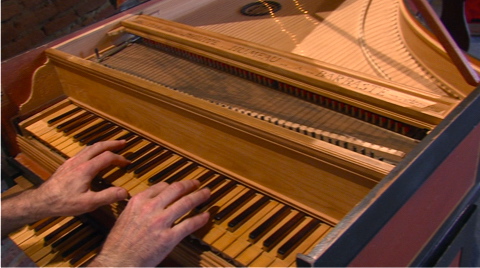 Technical sheet
Infos
Pictures
Videos
version
NULL
support
HD
producer
CLC Productions
director
stéphane Loison