The Pilgrim Woman, a Florentine celebration opera
120' - 2014 - Heliox Films
Synopsis
Combining different artistic disciplines for the first time, La Pellegrina marks the birth of the opera from the sixteenth century, twenty-eight years before Monteverdi's Orfeo and Jacopo Peri's Eurydice.
In the spring of 1589, to welcome Christine of Lorraine, who was coming to join her new husband the Grand Duke Ferdinand de Medici, the Tuscan city was adorned with a thousand splendours. The highpoint of the festivities was a performance in the great hall of the Uffizi Palace of the Pilgrim Woman, a comedy by Girolamo Bargagli, for which no fewer than seven different composers had written musical interludes, performed between the acts, with sumptuous sets and lavish mechanical effects.
It's for these interludes that the performance has gone down in musical history, because they are perhaps the first example of a theatrical work being set to music.
The Traversées Baroque and the director Andreas Linos take us heart of the eight months of preparation leading up to the most ambitious performance of the sixteenth century. Between the interludes, a new libretto by Rémi Cassaigne plunges us into the intrigues of this bubbling Florentine melting pot, in which Baroque art and thought were given the freedom to develop.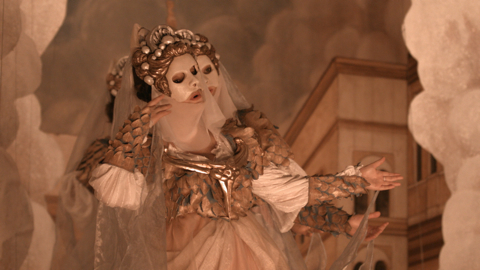 Technical sheet
Infos
Pictures
Videos
version
French & International
support
HD
producer
Heliox Films
director
Frédéric Delesques