TOWER OF PISA, UNMOVABLE EDIFICE
4K

52' - 2022 - INA / Enora Contant
Synopsis
Listed as a UNESCO World Heritage Site, the Tower of Pisa is without doubt the most famous Italian monument in the world. Its tilt has fascinated the public for 700 years and represents the most incredible scientific "puzzle" ever faced by builders and architects.
The 58-metre high tower began to lean just a few years after the start of its construction: despite attempts to correct the tilt with higher stones on the north side, the monument, completed in 1370, curves like a banana.
But despite its 5-metre deviation from its original axis, like bamboo, the building bends but doesn't break! A challenge to all the laws of gravity!
Over the centuries the monument has survived no less than four earthquakes! And yet, despite this, the Leaning Tower of Pisa is still there, immutable and majestic, while thousands of tourists jostle each day to climb its tilting staircase and enjoy an unrivalled panorama of the city of Pisa and the Tuscan countryside.
For almost 800 years, the most brilliant scientists and architects have tried to unravel the mystery of its tilt, and 18 commissions of experts have tried to find the perfect way to prevent it from toppling over.
It was only at the end of the 20th century that consolidation work placed the tower out of danger and reduced its tilt to around 50cm from the vertical.
So, what are the reasons for this famous tilt? What lies behind the tower's incredible resistance to the earthquakes that the region has experienced? What challenges have had to be met over the centuries to prevent it from collapsing? And what methods have been used to stabilise it and keep it open to the public?
Contributions by numerous international experts and the testimony of those involved in this incredible epic, enriched by brand new 3D models of the buildings, will fuel the documentary.
Presales : NTV - Ceska TV - Mediaset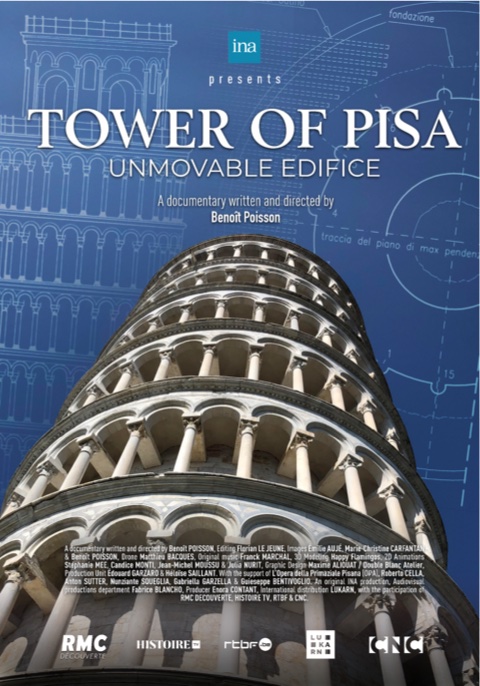 Technical sheet
Infos
Pictures
Videos
version
French, English, M&E
support
HD, 4K
producer
INA / Enora Contant
director
Benoît Poisson