TO WHOEVER WANTS TO HEAR
90' & 52' - 2020 - KANARI Films
Synopsis
This documentary features the artists from the improbable world of Noise and extreme music, who have decided to take transgression to new limits in ways that are diverse to say the least.
From the human voice to ordinary objects or instruments used in ways that are quite different to those for which they were designed, they develop their own language and shake up their listeners, plunging them into worlds of sound with unknown topographies.
Brought together behind closed doors for the purposes of the film, these 9 turbulent French, European and South American artists confront and question their practices. An opportunity for each of them to give us an unprecedented performance...
Shot between the 29th June and 4th July 2020 in the studios of L Muse en Circuit – Centre National de Création Musicale (Alfortville- France)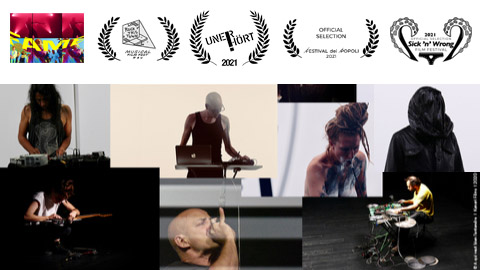 Technical sheet
Infos
Pictures
Videos
version
French, English, M&E
support
HD
producer
KANARI Films
director
Jérôme FLORENVILLE