Towards life, the Goumiers
52' - 2019 - Crescendo Media Films
Synopsis
While the modern world pushes us to go faster and faster, to exchange messages, to "like" and to retweet, for the last 50 years, the Goum "raids" have been inviting everyone to take a break, to find themselves and to find God.
Neither a spiritual retreat, nor a hike, nor a trek, the 8-day Goum "raid" combines walking, meditation and fraternal life, all in a spirit of poverty.
Michel Menu, a layman and leader of the scouting movement, launched the programme in 1970. Since then, more than 15,000 Goumiers have embarked upon over 1,000 raids in France and abroad.
This documentary gives a voice to these young people who set out across the Causses to enjoy this invigorating experience, in a setting where nature is resplendent. It reveals a source from which young people who need to quench their thirst and who are looking for meaning can drink.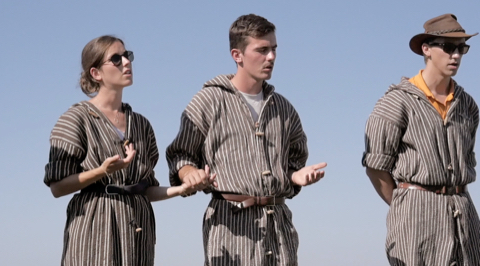 Technical sheet
Infos
Pictures
Videos
version
French, M&E
support
HD
producer
Crescendo Media Films
director
Marion Fernandez & Maxence Lamoureux
author
Cyril Lepeigneux et Jean-Pier Delaume-Myard