TRIBUTE TO YANN-FAÑCH KEMENER
105' - 2022 - Futur Antérieur Production
Synopsis
Under the artistic direction of Clément Le Goff, this concert pays tribute to Yann-Fañch Kemener, traditional singer and ethnomusicologist from Brittany.
Deeply attached to the oral tradition and its transmission, his various collaborations (Barzaz, Dan Ar Braz, Didier Squiban…) and his unique voice made him an emblematic figure in traditional Breton music.
A tribute to a voice anchored in Brittany. A tribute to a purveyor of gwerziou, soniou and kan ha diskan (laments, ballads and call and response songs). A tribute to a poet.
Recorded at the Théâtre de Cornouaille, Quimper
Anne Auffret: Vocals
Annie Ebrel: Vocals
Alain Genty: Fretless bass
Achille Grimaud: Narrator
Gilles Le Bigo : Guitars
Clément Le Goff: Bombard / veuze
Alan Letenneur: Trumpet / clarinet
Erik Marchand: Vocals
Clio Erte: Cello
Florence Rousseau: Harmonium
Jean-Michel Veillon: Flutes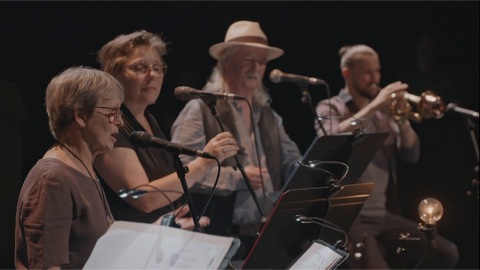 Technical sheet
Infos
Pictures
Videos
version
Music / concert
support
HD
producer
Futur Antérieur Production
director
David Daurier