VLADIMIR VELICKOVIC, into the dark
52' - 2013 - François Catonné / Didier Leclerc
Synopsis
Vladimir Velickovic is a Serbian painter. He has been living and working in Paris since 1965. Never leaving his studio, day after day, we see him working on huge paintings and large-scale drawings. While he is painting, Velickovic talks about himself and his work. He is a man who thinks out loud about creating art... In the grandiose setting of his studio, Velickovic is the only actor, accompanied by only the filmmaker. At the end of this 28-day shoot, there is beauty: that of an artwork, and another, more secretive, of the man who has created it.
Vladimir Velickovic staged his first solo exhibition at the age of 18 and was an immediate success. He has paintings in museums around the world and several dozen books have been written about him, including a monograph nearly 500 pages long in 2013. He is a member of the Academy of Fine Arts, and taught for 18 years at the Academy of Fine Arts. He is a celebrity and a very important person in his home country, Serbia.
This documentary is part of a collection of portraits of painters devised and directed by François Catonné (DOP on more than sixty films: Régis Wargnier, Bertrand Blier, Robert Enrico, Gerard Mordillat...). The idea is to show the painter at work: all the action takes place in the artist's studio, in which they are the only people to be seen and heard.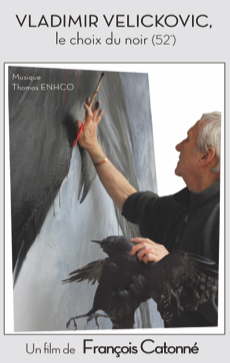 Technical sheet
Infos
Pictures
Videos
version
French, english, M&E
support
HD
producer
François Catonné / Didier Leclerc
director
François Catonné