When Versailles recovers its beauty
52' - 2005 - Entract, Arte France
Synopsis
On the immense construction site of restoration undertaken in Versailles, the art and the crafts converse with science and high technology. A learned visit, close to gestures and works, of the most visited site in Europe, from the gallery of Mirrors to Apollon's pond.
As part of this restoration site, all means are implemented, from the most craft gesture to the most advanced technologies, because, from now on, curators and restorers fight with science's weapons.
This documentary, by introducing us to restoration's trade, takes us along from the most secret hidden recesses of the castle into its most famous rooms. With, as guides, meticulous surgeons of art, which reveal us works - paintings, sculptures, woodworks, mirrors - through the intelligence of their gestures.
RIGHTS AVAILABLE : France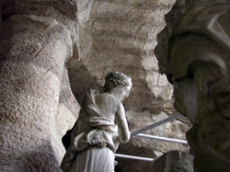 Technical sheet
Infos
Pictures
Videos
version
French, International
support
SD
producer
Entract, Arte France
director
Valérie Exposito