WHISPERS (s'assurer de ses propres murmures)
51' - 2021 - Tangaro/CLC Productions – Collectif Petit Travers – La Traverse - téléGrenoble – LCN La Chaîne Normande
Synopsis
Juggling and drums go well together...
This show is structured like an album or a traditional circus performance, made up of musical numbers or acts. But it's actually a long dance. Pulsation, phrasing, accents, the feeling of passing time, different elements of rhythm that bring juggling and music together.
This show looks at a more intimate dimension of language: whispers.
Words that we share in close proximity, phrases that can only be expressed within the security of a protected bubble.
Show recorded at La Traverse on March 29, 2021
Taking part in this intimate performance are:
Julien Clément, Juggler
Pierre Pollet, Percussionist
Thibault Thelleire, Lighting designer
Olivier Filipucci, Set designer
Sigolène Petey, Costume designer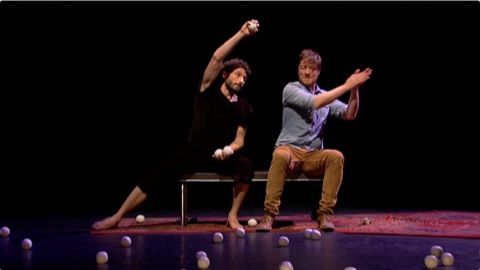 Technical sheet
Infos
Pictures
Videos
version
Music / Concert
support
HD
producer
Tangaro/CLC Productions – Collectif Petit Travers – La Traverse - téléGrenoble – LCN La Chaîne Normande
director
Laurent Préyale