Yvan Bourgnon, offshore racer: IN BALANCE ON THE OCEAN
70' & 52' - 2017 - VERTIGES Prod.
Synopsis
In 2015, the Swiss skipper Yvan Bourgnon - a regular offshore racer and winner of the Transat Jacques Vabre in 1997 alongside his brother Laurent - completed the first around the world solo voyage in a cabin-less catamaran the size of a beach yacht, "Ma Louloutte". 220 days and 55,000 km at sea, with no protection from the elements. To find his way across the world's oceans, he decided to navigate the old way, using a sextant.
Alone and guided by the stars, Yvan Bourgnon embarks upon a remarkable adventure, which he shares humbly and openly on camera. Faced with shipwrecks, storms, pirates, the cold and extreme heat, he also enjoys innumerable moments of happiness, satisfaction and success. Like an artist, Yvan Bourgnon immerses us in a long and arduous adventure, which he renders accessible, comfortable and almost poetic.
But the disturbing degradation of the seas shocks this sea-loving skipper. On numerous occasions, his boat hits debris, he sees plastic suspended in the water and notices the extent of the damage. What everyone knows, Yvan Bourgnon experiences on a daily basis, sailing as he does so close to the water. The sailor returns home from the sea inspired by the desire to safeguard the oceans, a project in which he is now actively engaged with his association The Sea Cleaners.
This film has been awarded in many Documentary Festivals :
- « Best Film Adventure » at the Waimea Ocean Film Festival - US 2018
- « belle Planète award» at the Retours du Monde Festival – France 2017
- « Grand Prix » at the Rendez-Vous de l'Aventure - France 2018
- « Special Mention » at the Irish Adventure Film Festival – Irland 2018
- « Best Spirit of Adventure » at the Sheffield Adventure Film Festival – GB 2018
- « Grand Prix du public » at the Festival Aventure & Découverte in Val d'Isère – France 2018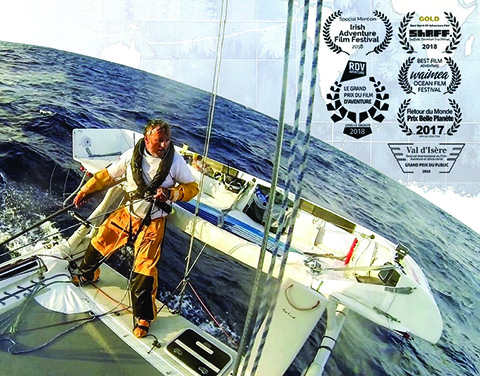 Technical sheet
Infos
Pictures
Videos
version
French & International
support
HD
producer
VERTIGES Prod.
director
Sébastien Devrient