Beethoven, String quarter N° 9, in C major, op.59 n°3
30' - 2011 - Heliox Films
Synopsis
One of Beethoven's most beautiful string quartets performed by exceptional musicians.
Composed in 1806 and published in January 1808, it is the last of the three quartets dedicated to Prince Andrey Razumovsky, whose name it bears.
This quartet was composed during the very productive year of 1806, which also saw the composition of the two other quartets in the same opus (Nos. 7 and 8), the Fourth Piano Concerto, the Fourth Symphony and the Violin Concerto. It is the only one of the three Razumovsky quartets to have been favourably received by the critics.
Beethoven delivers an undeniable demonstration of his maturity in this, the most powerful and most playful of the Razumovsky quartets, which is also the only one that does not contain a Russian theme. After a mysterious introduction that sometimes borders on atonality, the first movement develops into the exuberant joy of the Allegro vivace. The second movement is the most tense and meditative, while the fugal finale brings the work to a truly unrestrained conclusion.
- Introduzione : Andante con moto - Allegro vivace
- Andante con moto quasi allegretto
- Menuetto (Graziosi) & Trio
- Allegro molto
DAVID GRIMAL & LES DISSONANCES
The Dissonances, homage to the famous quartet of Mozart, is a collective of artists created by violinist David Grimal. The musical ensemble without conductor, has an absolute liberty of programming choices. This independence offers musicians the opportunity to meet a new audience sometimes intimidated by the so-called classical music and to bring the public a new vision of the major repertoire.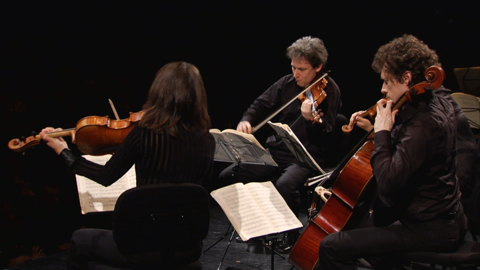 Technical sheet
Infos
Pictures
Videos
version
French & International
support
HD
producer
Heliox Films
director
Frédéric Delesques