LA BARAQUE, SES FRITES
50' - 2010 - Symphonia Films / Wéo Télés Nord Pas de Calais
Synopsis
Visit any village, burg or town in Northern France, the Netherlands or Belgium and you'll find a "baraque à frites" - a chip, or French fry shop.
We reveal a nonconformist, theatrical, warm and welcoming world through an eclectic panorama of these legendary establishments.
Chip shops are primarily about chips. But before you can have chips, you have to have potatoes.
In the Flanders region, we'll hear from a historian, the guide from the "Frietmuseum" and "theoretician" Paul Ilegems.
The tales they tell travel from South America to Belgium, taking in Spain, England and Brittany.
It's the same concerning the paternity of the chip: Where did it first see the light of day? In a Breton salad? In South West France? In Antwerp?
Its origins may be unclear, but there's no doubting its strong regional attachment.
Thanks to our specialist in Flanders, we'll find out about the common industrial past that encouraged the consumption of chips from the North of France to the South of Holland.
Despite the recent challenges faced by the high street and assaults by the giants of globalisation, chip shops remain the proud representatives of the region.
Our investigation reveals a rare architectural feast, comprised of abstract constructions that more often than not bear an uncanny resemblance to their owners.
All of life can be seen within these little 'theatres'.
Throughout the film, our experts will attempt to explain the phenomenon! How much should we believe them? Are their theories as insubstantial as the steam from a bag of chips?
"Baraques à Frites" offers an answer to the fundamental question: Is all this really serious?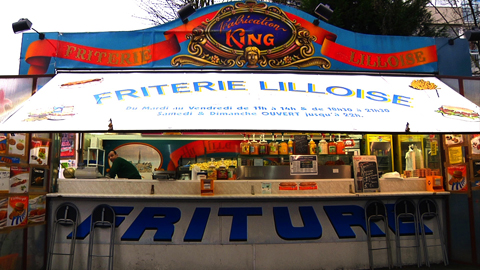 Technical sheet
Infos
Pictures
Videos
version
French, English and International
support
HD
producer
Symphonia Films / Wéo Télés Nord Pas de Calais
director
Julien Krizek