Masters of Art : Renew the material
13' - 2017 - Home & Images
Synopsis
They are rare professions of which we know almost nothing. Yet, they nourish French creativity…
Episode dedicated to Céline Bonnot-Diconne, leather restorer.
Céline has a passion for leather. To such an extent that she is a researcher in the subject. It's a very specialised passion, devoted to polychrome gilt leather. From the 16th century to the end of the 18th century, it was used to decorate the luxurious interiors of the richest European homes. The only problem is, these delicate artworks are never signed or dated.
A conserver and connoisseur of this leather, Céline Bonnot-Diconne is one of the few people who can identify and restore it.
For this, she has developed a unique programme: the physicochemical identification of gilt leather in order to compile a list according to the manufacturing processes of the various workshops of the time. This inventory allows her to identify alteration processes and to take care of precious works. It's a long-term job that involves raising awareness amongst curators and historians.
A Master of Art, she is teaching Marie Héran, a graduate of the Sorbonne in the conservation and restoration of cultural property. Together, they can take on - and care for - more orders; but first and foremost, Céline is delighted that she is no longer the only person practising this trade in France and can pass on her knowledge to someone who shares her passion.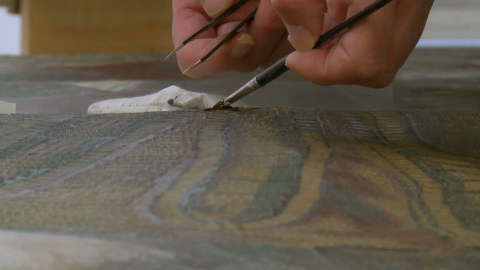 Technical sheet
Infos
Pictures
Videos
version
French, english, M&E
support
HD
producer
Home & Images
director
Aurine Crémieu