ON THE TRAIL OF THE LYNX
4K

52' - 2022 - DANS LA BOUCLE Productions
Synopsis
The Eurasian Lynx, a predator eliminated in Western Europe in the last century, was reintroduced there in the 1970s, but is struggling to reestablish itself in its former territories.
This discreet, forest-loving feline is largely unknown to the general public, and difficult to observe. Over the years, Neil Villard, who is passionate about wildlife, has becomes a master tracker, which allows him to follow and interpret the tracks, prints and behaviour of these animals. His knowledge of lynx and their territory means that he can observe them regularly.
Today, the main Jura territories are occupied by adult lynx. Once weaned, the young"disperse", leaving their mothers permanently in search of a new living space, instinctively colonising new territories to find one in which to settle.
Neil is intrigued by this poorly documented behaviour, which constitutes both a danger for the animals that undertake the journey, and hope for the species. He would like to know what happens to the young lynx in the mountains, how and where they travel, and what awaits them elsewhere.
For this, he will follow them along the dispersal route, leaving his native Jura and the places that are familiar to him... To think like a lynx, migrate like a lynx and become a lynx, in order to take the most likely path, spot clues along the way, and observe his favorite animal.
From the Swiss Jura to the French Alps, via the French Jura and Bugey, Neil will meet women and men in the field, who are convinced that the presence of the lynx in our forests and mountains is essential. Naturalists, breeders, mediators and biologists, they are studying the animal's habits and genetics, and working for its protection.
To the south of the Chartreuse, Neil will come up against the anthropogenic limits that the young lynx encounter, and which are slowing down the expansion of this species. Because although it plays a key role in the balance of natural environments, the lynx is still too often misunderstood, poached, and hampered by human infrastructures.
However, unless the lynx is able to disperse and recolonise its former territories, it risks eventually disappearing.
For Neil, getting a better understanding of dispersion and meeting those who are fighting for the species to survive is a promise to engage in their protection.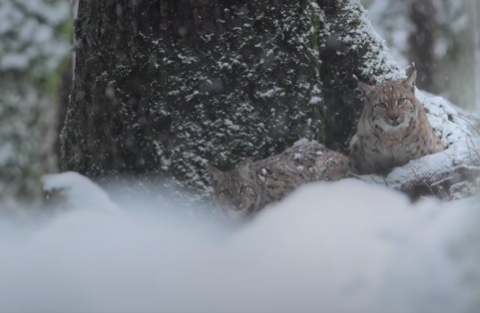 Technical sheet
Infos
Pictures
Videos
version
French, English, M&E
support
HD, 4K
producer
DANS LA BOUCLE Productions
director
Matthieu Maillet
author
Rémi Dupouy & Matthieu Maillet