The lost silver pharaohs of Tanis
52' - 2023 - Factual Factory / AH ! Production
Synopsis
After Tutankhamun, it is THE most important archaeological discovery of the 20th century. However, having gone unnoticed due to the outbreak of the Second World War, and eclipsed by the excavation of the exceptional treasures of Tutankhamun's tomb by the British Egyptologist Howard Carter in 1922, it is largely unknown to the general public.
This discovery, unlike any other in the world, was the work of the French archaeologist and Egyptologist Pierre Montet. For many, he is the inspiration for the world-famous movie character Indiana Jones. On March 17, 1939, while looking for traces of the passage of the Hebrew people in the Nile delta, he unearthed a series of tombs on the forgotten site of Tanis, the capital of the last Pharaohs. However, organising a dig in Tanis was a titanic mission. In hostile terrain, with no signs of life for 30 kilometres, he had to fight the elements. But this well-respected man, who was aided in his work by his wife and their three daughters, obtained the support of King Faruk. An invaluable alliance, crowned by exceptional discoveries.
After 12 years of excavations, between 1939 and 1946 Pierre Montet uncovered several undisturbed tombs belonging to the pharaohs and dignitaries of ancient Egypt, including those of Sheshonq II and Psusennes I, from the 22nd and 21st dynasties. The mummies were intact, the gold masks numerous and the treasure priceless. A major discovery, comparable to that of Tutankhamun if not even more important, these wonders can be admired in the Cairo and Louvre museums.
Today, the 200-hectare site of Tanis, which is three times the size of ​​Pompeii, is being excavated by French archaeologists. Under the leadership of excavation director François Leclère, they are trying to raise the ancient city from the desert sands using magnetometers and other modern technologies. It's the mission of the century for Egyptology.
Thanks to archive material and photographs from the period, as well as footage of the archaeological research currently taking place on the Tanis site, we are going to lift the veil on one of the most important French archaeologists in history, and the discovery of the treasures of Tanis.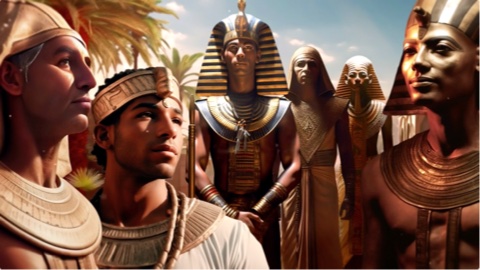 Technical sheet
Infos
Pictures
Videos
version
French, English, M&E
support
HD
producer
Factual Factory / AH ! Production